Congratulations on taking the first step toward a simpler future. We're so glad you choose Contractor Accelerator for your business! The quick start guide is a step-by-step guide through your software trial period, implementation, training your team, and launching the system with your team.
There is a lot to do but don't worry; you can set up the software to be as simple or robust as you would like, and we have made it easy with the built-in training, setup wizards, videos, and directions to walk you through each step of the process. If you have any questions, you can explore this Help Center or contact your Customer Success Manager (CSM) for assistance.
---
1. Training Hub
Let's kick off with some basic training. Click on each link and see how to add a customer, create a drawing, and create a bid. You can follow these same instructions in your Training Hub within the software. Every new user gets these three training modules.
Create a Customer
When a customer calls in, you'll want to add that lead to the system. Here you will learn how to go through customer intake and schedule that first evaluation appointment. For more information on customer intake and managing customer information, click here. To learn more about how you can set customer appointments, click here.
Create a Drawing
Once you get to the customer evaluation, you'll want to create a drawing of the property. Here you will learn how to create a drawing and get insight into editing options for specific icons. For more information on the drawing tool, click here.
Create a Bid
Now that you've made your drawing, you'll need to create a bid. Here you will learn how to build a bid, set your payment terms, and add any additional drawings or media before sending to the customer. For more information on bid creation and changes you can make within a bid, click here.
---
2. Schedule a Live Demo
Go ahead and click the button below to schedule some time with your Customer Success Manager, who will walk you through a full demo of the system. You don't know what you don't know, so let us show you the full functionality of the system and answer any questions you have.
CLICK HERE TO SCHEDULE LIVE DEMO
Before the meeting, complete the Training modules within Training Hub. Don't worry if you get stuck; we can answer all your questions in our meeting.
---
3. Setup Wizard
Now that you understand the flow of the software let's add some of your information to customize your account so you can get the most out of your Trial period! Click on the Setup button in the upper left corner of your software OR find the Setup Wizard button within Training Hub. This is where you will build out your settings.
General Info/Settings
The general information and settings for your company are automatically used throughout the system during bid creation, invoicing, email communications, and more. Update these to make your account more user-friendly for your company. Follow the onscreen prompts or click here to learn more.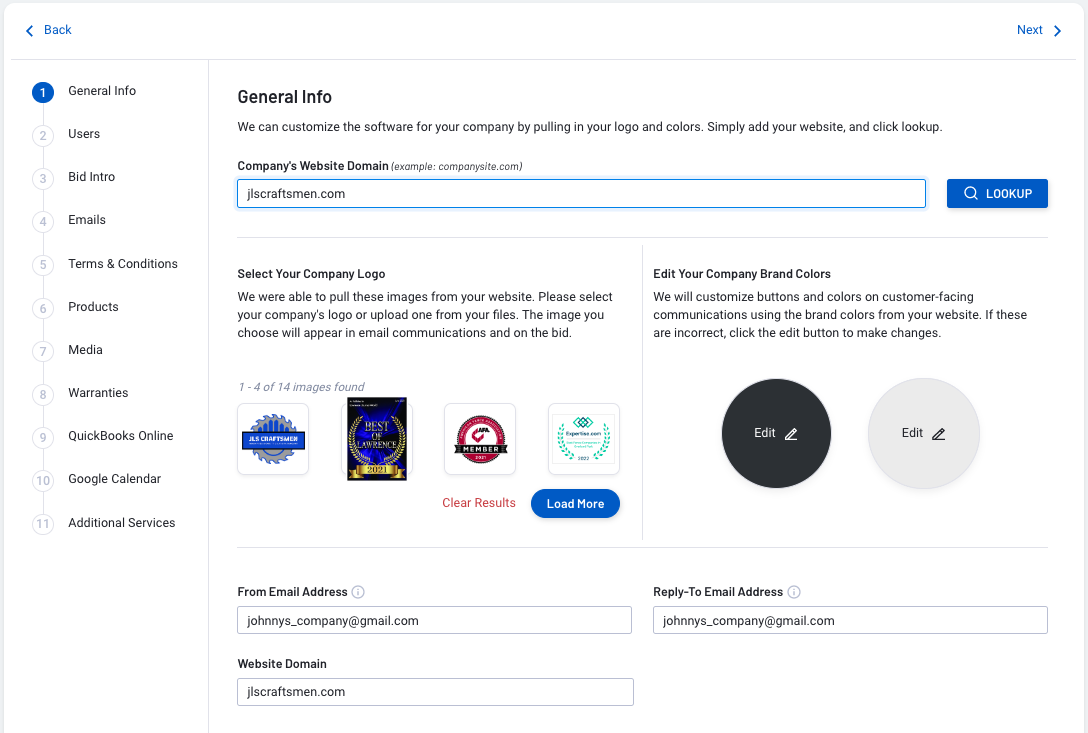 Users
A User is someone you have granted access to your company's account. Usually, this includes your leadership team, sales managers, sales representatives, project leads, office managers, schedulers, accounting, and crew leaders. Follow the onscreen prompts or click here to learn more.
Primary Users can check the Subscription & Billing page to see how many users are available under your subscription package and upgrade if needed.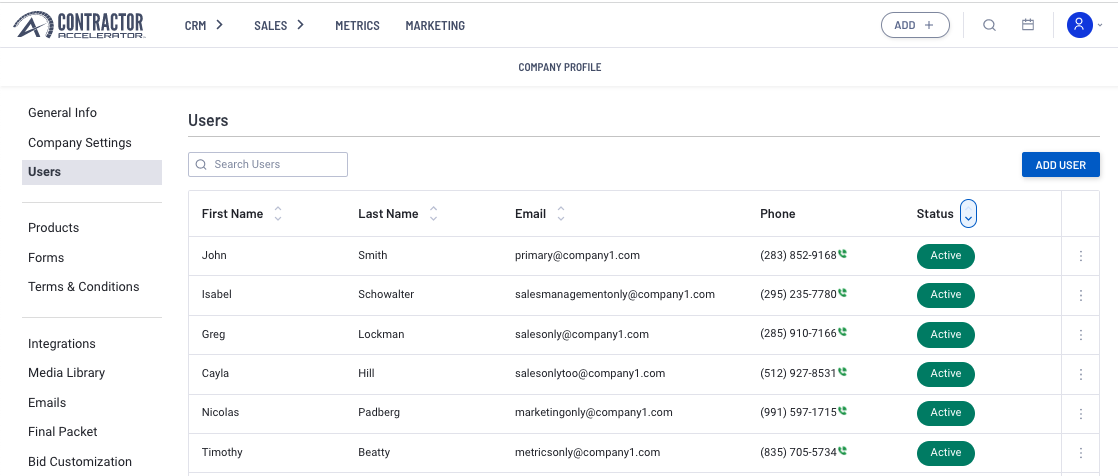 Bid Intro
Your bid and Job Document can be further customized to fit your business needs with Bid Content, Bid Templates, and Job Document Templates. Follow the onscreen prompts or click here to learn more.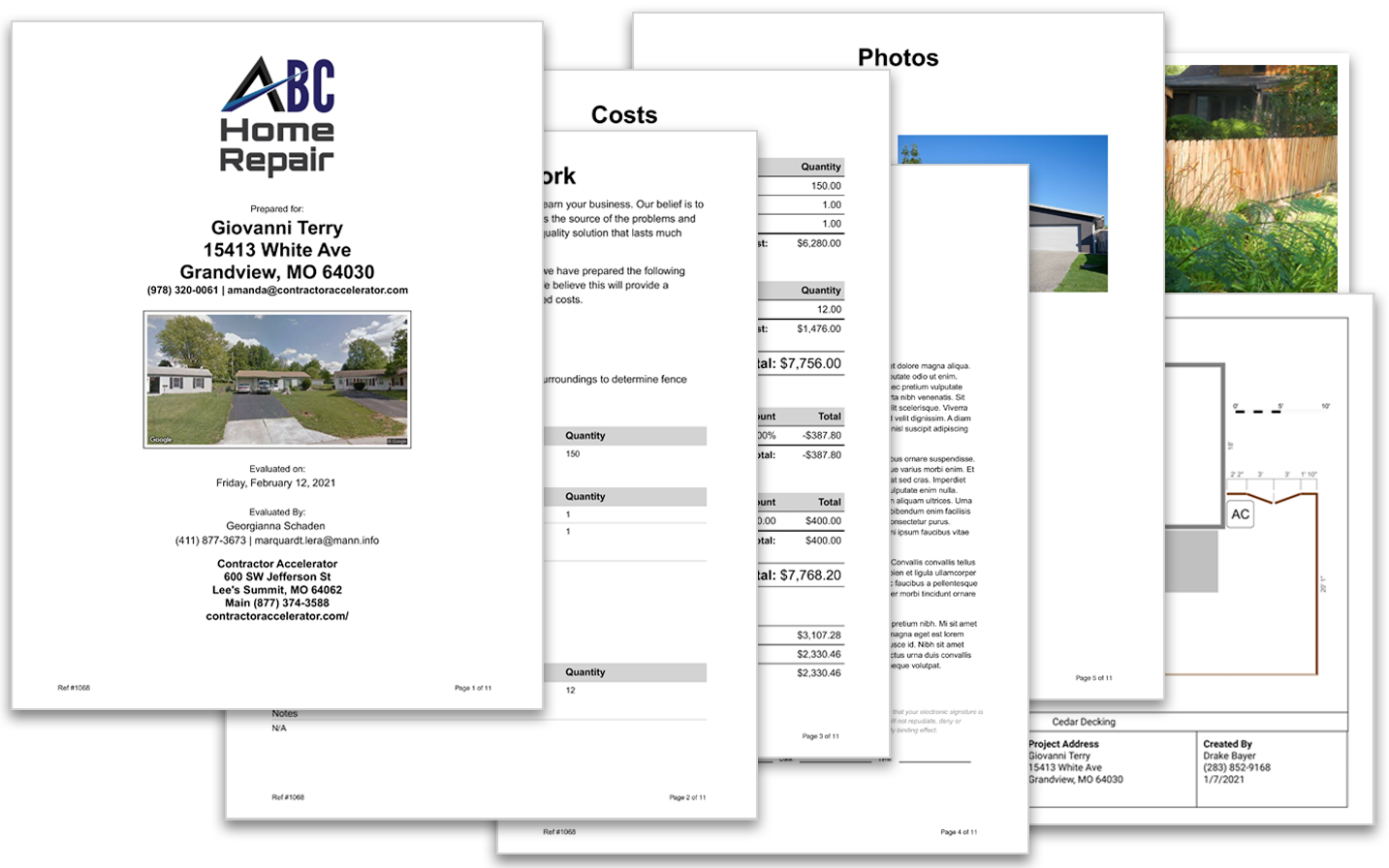 Emails
The Emails tab includes all the email templates that are automatically sent to customers throughout the different stages of a project. Be sure to tailor the text to fit your business. Follow the onscreen prompts or click here to learn more.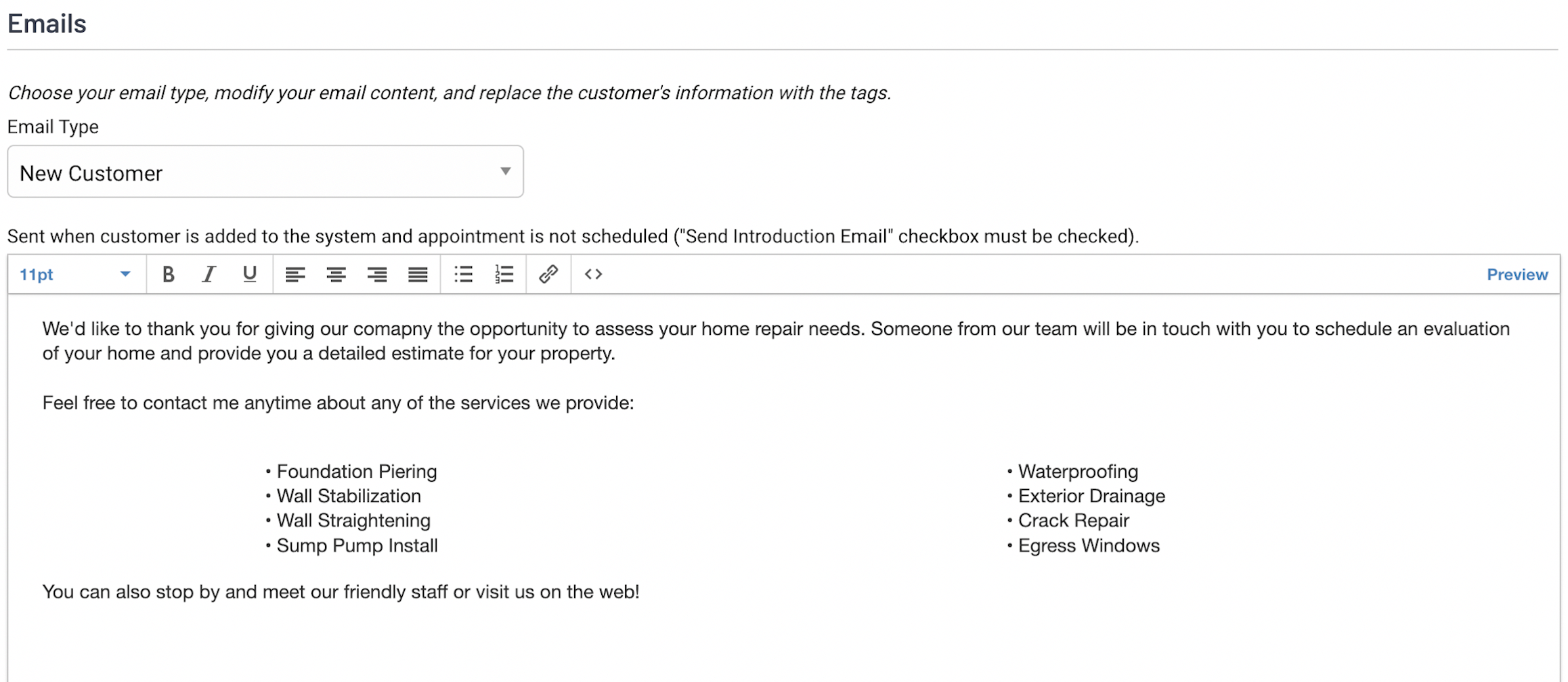 Terms & Conditions
Include your disclaimer, waiver, warranty, and contract language in your bid document to automatically create customized Terms and Conditions for each job. Follow the onscreen prompts or click here to learn more.

Products & Forms Marketplace
A product is anything you charge your customer for on a bid, such as a singular physical product (examples: 4 ft Gate | Sump Pump | Gallon of Paint), a service (examples: Staining | Excavating | Painting), or a combination of items and/or services (examples: Gate with Latch | Sump Pump, Pipe, and Installation | Prep, Prime, and Paint). Follow the onscreen prompts or click here to learn more.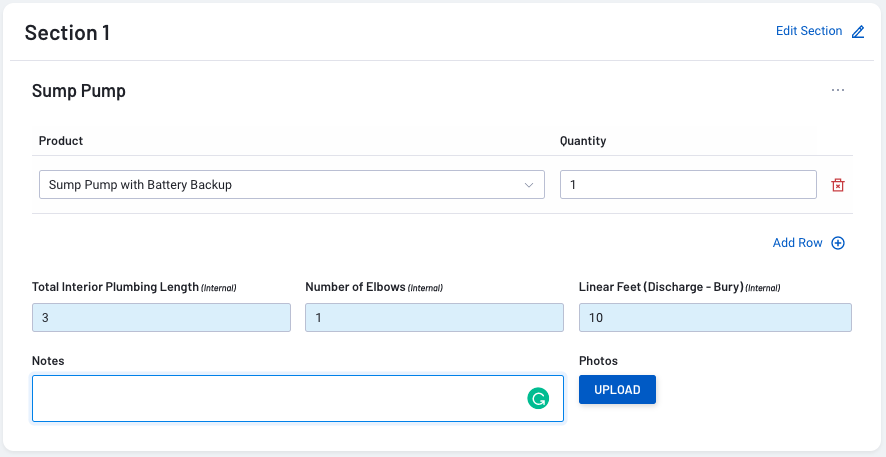 Media
Your Media files are available for viewing and download from the Media Library or can be added directly into a bid for a seamless and organized presentation. Primary users will add your company's media files to the system via the Setup Wizard or Company Profile.
Why Use Media Files?
Access the Media Library from the User Menu Icon to show customers a video explaining a product or installation process.
While making a bid, add glossy sheets, flyers, company info, or financial aid information by clicking the Media icon (left toolbar) and selecting documents that pertain to the solutions you suggest in the bid.
PDF documents are combined with the bid document as a seamless part of the proposal.
Other media types such as JPEG, PNG, GIF, PDF, MP4, QT, WMV, AVI, OGV, WEBM, DOC, DOCX, PPT, PPTX, PPS, PPSX, XLS, XLSX, MPGA, OGA, WAV, CSV, TXT will show as a link on the Additional Media page within the bid document. Follow the onscreen prompts or click here to learn more.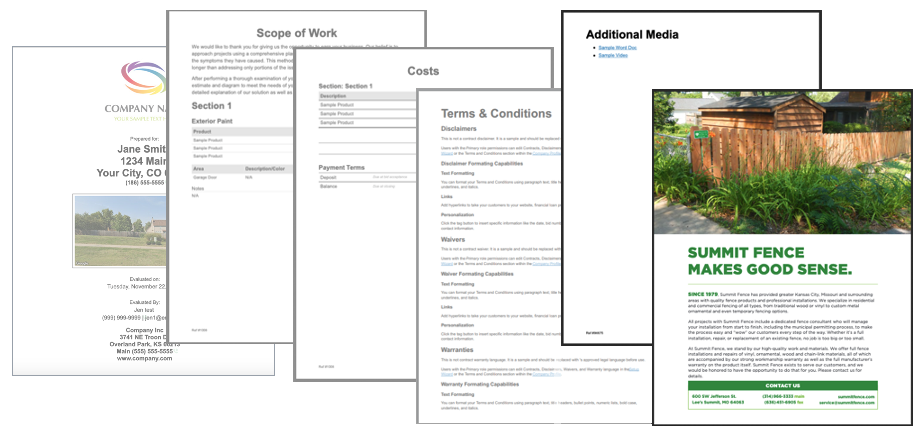 Warranty Cover Letter
Warranty Certificates can be sent via email from the software. The email includes a PDF with a cover letter and any appropriate warranty certificates. Users click the Send Warranty button within an accepted bid to select the appropriate certificates to include. This is usually done after a project is complete and payment has been received. Follow the onscreen prompts or click here to learn more.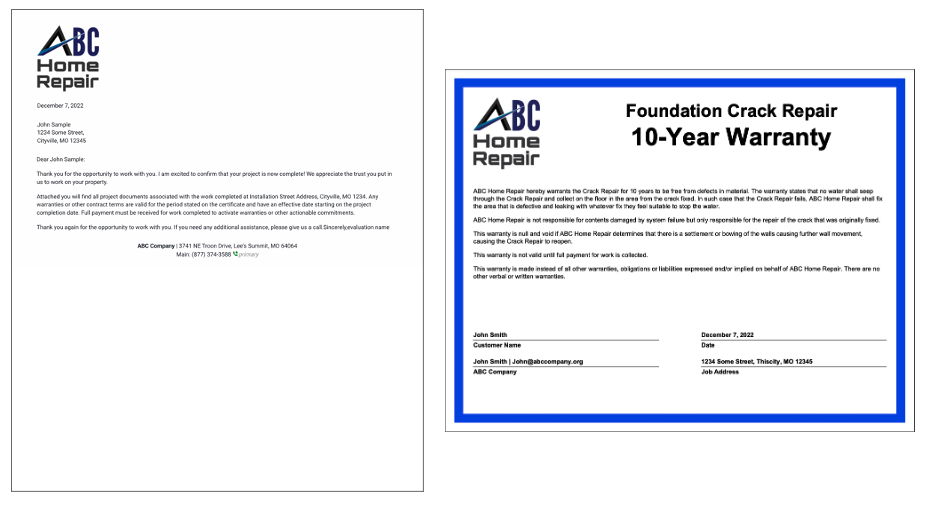 Quickbooks Online Integration
Connect Contractor Accelerator to QuickBooks Online to seamlessly keep track of your invoices and avoid doing manual duplicate data entry. Every time a bid is accepted within Contractor Accelerator, the system creates invoices according to the payment terms within the contract. You can find this information within the Billings tab. Additionally, the customer information and invoices are created in your Quickbooks Online account under a newly created customer. Once each invoice is paid within Quickbooks, Contractor Accelerator will automatically mark them as paid in the Billings tab. This means both systems always have the most accurate information. Follow the onscreen prompts or click here to learn more.

Google Calendar Integration
Events created within the company Google Calendar will be shown on your Contractor Accelerator schedule within the Dashboard under a user by the company name. This is a one-way push of events from Google Calendar to Contractor Accelerator and is a great place to keep track of important information, such as holidays or team meetings. Follow the onscreen prompts or click here to learn more.

Additional Services
You're almost done with Setup Wizard! Before you go, check out these additional services from Contractor Accelerator. Select the service(s) you are interested in to request additional information. Your Customer Success Manager (CSM) will be notified and reach out to you soon!
Product & Services: You can manually add, edit and manage products, prices, descriptions, and form templates in the Company Profile. For those with a more extensive list of products and services, we offer a 1-time import at no additional cost. Learn More
Train Your Team:

Invite Users: When you are ready to invite the rest of your team to use the software, you can invite them via the Setup Wizard or via the Company Profile. Learn More

User Profiles: Each user has a personal user profile with basic details like name, phone number, and email address, as well as options to add a photo and bio, connect their calendar and update their password. Learn More

Live Team Training: To ensure all users, from the schedulers to the crew, feel comfortable with the software, your CSM will hold a live training webinar with your team to help you launch Contractor Accelerator. Click here to schedule your live team training now.

Additional Support: Have additional questions about moving your current workflow and processes into Contractor Accelerator? Your CSM is happy to meet with you to answer all your questions and ensure a successful transition.

Where is the Help Center? Looking for more information on a specific part of the system? You can click on your user profile in the top right corner of CA and find the "Help" link. This will take you to the Help Center to search keywords for answers to any questions you may have.
How do I contact support? Can't find what you need to know within the Help Center? From the Help Center, you will see a pop-up in the bottom right corner where you can search keywords for an answer ona topic. For example, if I have a question about pricing, all I need to do is type in the word and hit the enter key. Results will populate with links to Help Center. If you can't find what you're looking for, there will be a "Contact Us" button to send support an email.

Import Previous Customers: If you're coming from another system or have previous customer information, such as customer details, appointments, and notes stored electronically, we can push that data into Contractor Accelerator for you. Simply request an export from your current provider and send it to us. That's it! We do all the configuration to ensure the information ends up in the right place within Contractor Accelerator. (Additional fees may apply) Please contact your Customer Success Manager (CSM) for more details.
Review and Finalize
If you have completed all the steps in Setup Wizard, great job! If not, you can review the items you have skipped. Click on the section name to make changes, or select Done to skip them and finish the Setup Wizard. In the future, any changes to your company's Settings, Products, Users, etc., can be made in the Company Profile.
---
4. Optional Implementation Steps
Beta Test (Optional)
Many clients like to take the system for a test run on a few jobs before launching it with their entire team. While this is not a requirement, larger teams have found it helpful to ensure all the details have been set up properly for every use case.
Company Profile Updates (Optional)
The Setup Wizard is intended to help you get set up quickly so you can really see how the software functions. Know that you understand the system, we encourage you to take a quick look at your Company Profile to ensure all your settings are exactly as you want them. This is where you will go to make adjustments in the future. To find the Company Profile, Primary Users will click the user icon in the upper right corner of the software and select Company Profile.
Here are a few things we suggest you take a look at before your official launch:
---
5. Go Live!
Once you have completed your implementation, your company will be ready to go live with Contractor Accelerator! Congratulations!
Often, as our customers get comfortable with the software, they find small things they want to update. With such a flexible system, usually, these small things are easily remedied. As a reminder, you have access to this Help Center online anytime and can reach out to your Customer Success Manager with any additional questions you have.