Add a User's Google Calendar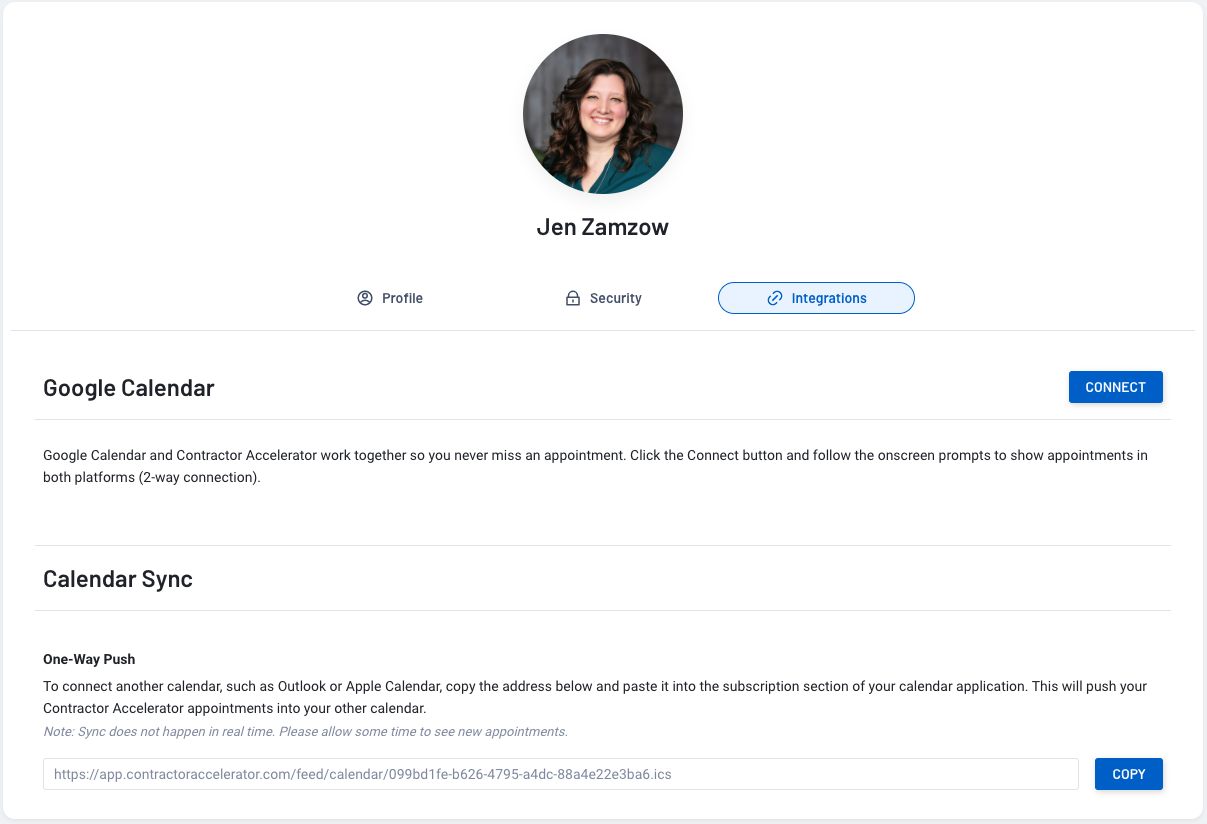 Push appointment information from Contractor Accelerator to your Google Calendar as well as pull events from Google Calendar to your Contractor Accelerator calendar. This will make sure that any days off or personal appointments show in Contractor Accelerator to avoid double booking.
---
Add Your Google Calendar
Sync your Google Calendar with Contractor Accelerator. For information on linking a company Google Calendar, click here.
Select the User Menu icon in the upper right.
From the drop-down, select Profile.
Under the Integration section, select the Connect button.
Sign in to your Google account.
You will be redirected to Contractor Accelerator then select the calendar you would like to link Google Calendar.
Click Save.
Click Sync to sync previously scheduled Contractor Accelerator events as well as future appointments or Cancel to only sync going forward.
---
Manage your Google Calendar
Settings
Edit a previously linked Google calendar by selecting Settings.
Select a different calendar from your Google account here.
Disconnect
Disconnect a Google Calendar from Contractor Accelerator by clicking Disconnect.
A company calendar will be removed once the associated user calendar is removed.
Sync to Google
Manually sync a Google Calendar to Contractor Accelerator by clicking Sync to Google.
Notes
A scheduled appointment made on Contractor Accelerator can be edited within the software, however, the change may take up to a minute to reflect on the Google Calendar.
An appointment made on Google Calendar cannot be edited in Contractor Accelerator.
Contractor Accelerator events on Google Calendar will include the customer name, address, phone number, email, project name and appointment description.