Comprehensive Search of All Contractor Accelerator Data

The search bar can be used to quickly search for existing customers, properties, projects, bids, and invoices.
---
Search Results
Results will be ordered based on the keyword entered. The results of your search will be displayed below the search bar. As you type in the search bar, the search results will be refined and updated.
The results will be grouped into the following categories.

Customers
Properties
Projects
Project Contacts
Invoices
Bids

Customer

and p

roperty r

esults

will route to the customer page.

All other r

esults

will route to the project page.

The search box will be limited to the first 15 of each customer, property and projects matches. See all matches by selecting See All (customer, property, project) Results.
---
Search Criteria
Search the following information to find the intended result.
Customers

Name
Address
Phone Numbers
Business Name
Email

Properties

Projects




Description
Project Reference Number

Project Contacts
Invoices


Invoice Number (see example below)

Bids

Reference Number (see example below)
---
Examples
Project Reference Number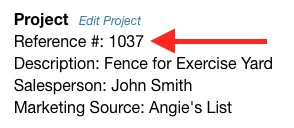 Invoice Number

Reference Number