Manage a Project's Information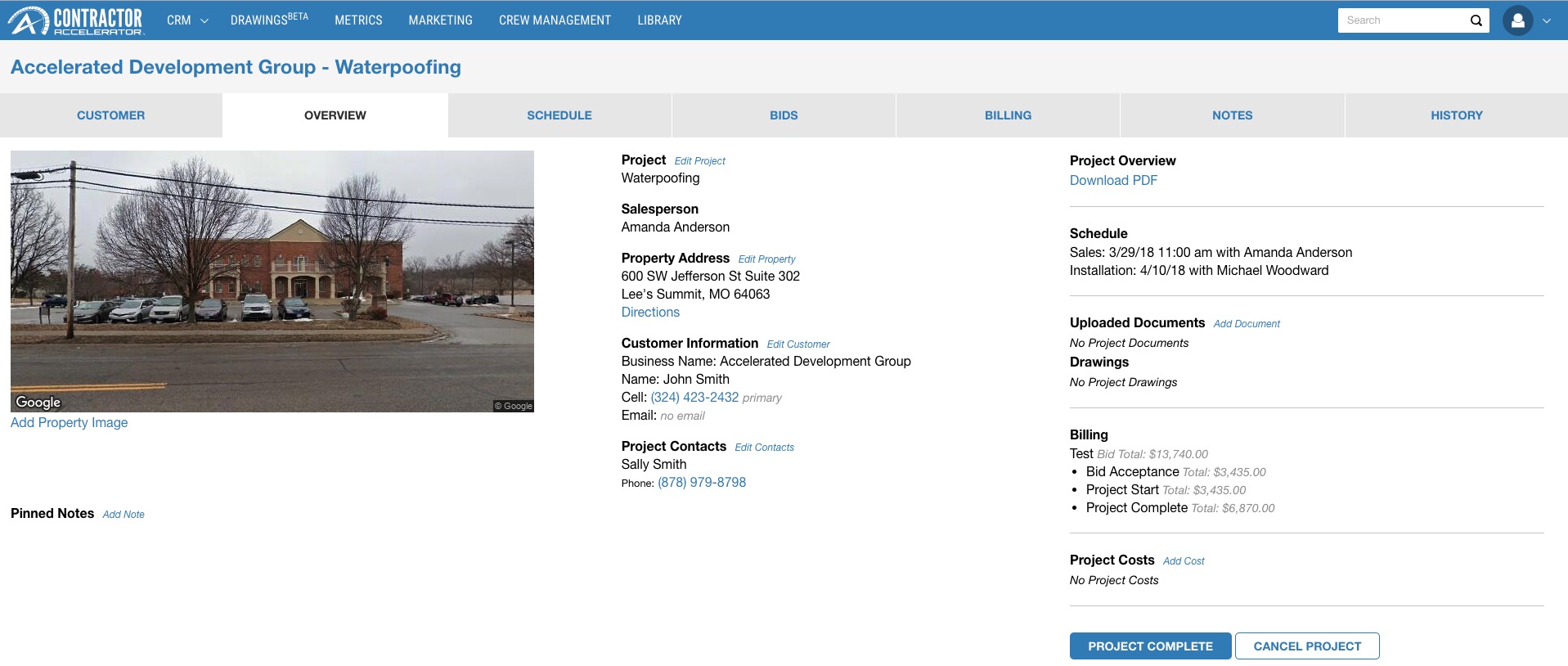 Add/edit and lookup additional information on the Overview tab.
---
Edit a Project
Edit a project's information after it has been created.
Project Information
Edit the project description, project salesperson, and the "how did you hear about us?" drop down list.
From the Overview tab, select the edit link to the right of the section you would like to edit.
Complete the changes.
Click Save.
---
Edit a Property
Edit property information after it has been created.
Add a Property Image
Upload a property image to display on the project page and in the cover page on the bid. A Google image of the property will load to this page by default.
Select Add Property Image from the project page.
Select the image from your device's storage.
Click Save.
Edit Property Address
From the Overview tab, select the Edit Property to the right of the Property Address.
Edit the desired address field.

If the address entered is not able to be verified with Google, a recommended address will appear within the Edit Property modal.
Click the Use button on the correct address. Using the entered address may cause problems with mapping and selecting the property image from Google.

Click Save.
---
Project Resulting
Complete or cancel to end a project.
Project Complete
Select the Project Complete button to result the project as complete with a time stamp.
This will be reflected in the project pipeline under

Recently Completed Projects

and in metrics.
Undo a completed project by selecting Undo Project Complete from the Overview tab.
Project Completion Date
After clicking the Project Complete button, a modal will appear with a selector for the project completion date.
The project completion date will default to the current time and date. It can be modified to any date past or future.
The project completion date can also be changed on a previously completed project.

Undo Project Complete and reselect Project Complete to show to project completion date for adjustment.
Cancel Project
Select Cancel Project button to remove a project's data from metrics and the project pipeline. The project and its information will be saved with the software.