Actions After a Bid Has Been Created

Copy the bid, resend the bid email, edit, view the scope of work document, or cancel the bid.
---
View Details Button
Select the View Details button to view a concise snapshot of key information. This allows for quick and easy access to the main aspects of the bid.
Once on the View Details page, to the left, you will notice some quick information:
Reference Number

Bid Status

Total Dollar Amount

Download (the Bid and the Job information)

History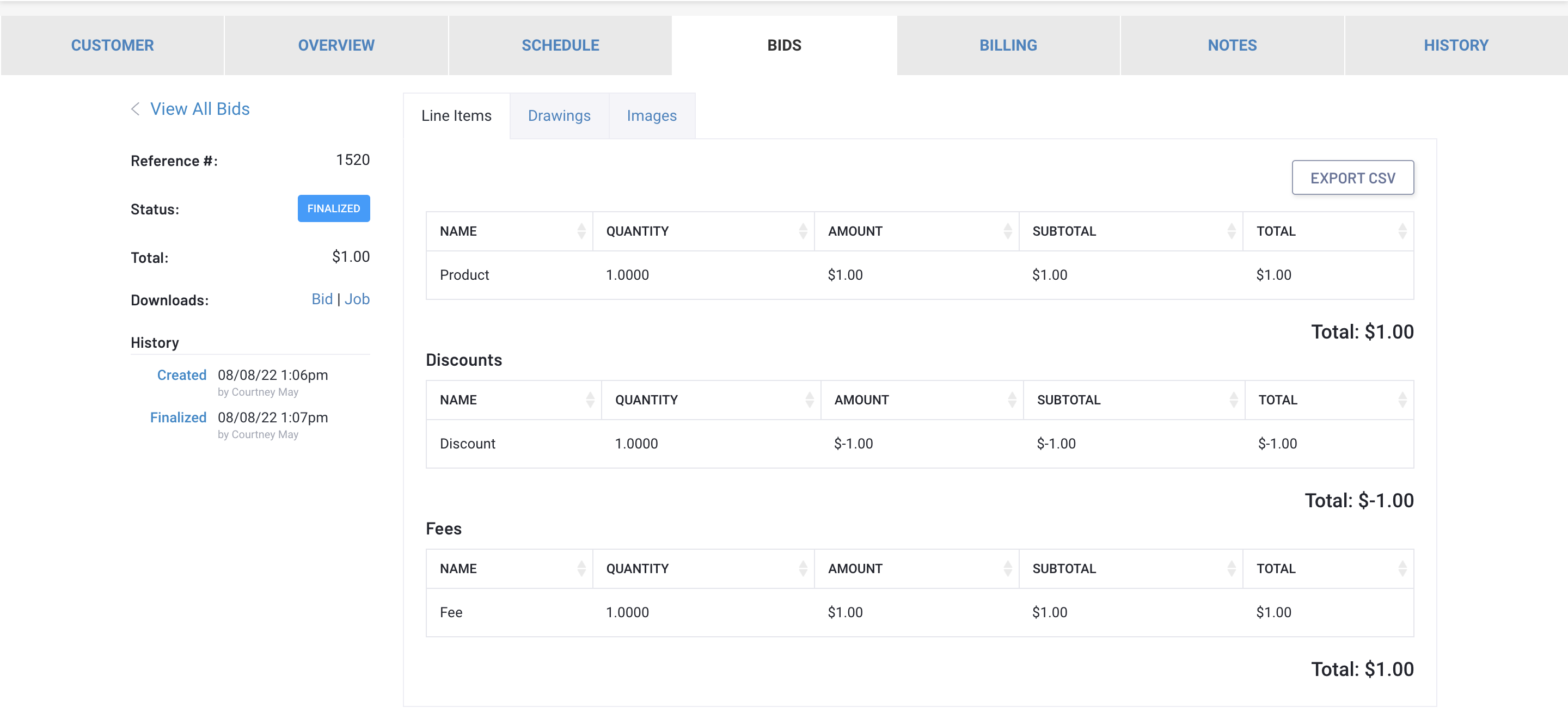 The main portion of the page is then broken into 3 separate tabs. They are as follows:
Line Items - Here, you will see individual line items with their respective prices or pricing edits, with the total at the bottom. Fees, as well as discounts, are shown below the line items. In this tab, you also have access to export this information as a CSV.

Drawing - In this section, you will find the option to download the PDF version of the drawing included in this particular bid.

Images - This tab houses each image taken or uploaded within the bid.
---
Copy a Bid
Duplicate the entire bid to make modifications and create a second version.
From the bid tab, select the Copy Bid button.
Enter a description for the new bid.
Add or edit any information in the bid creator. See the Create a Bid article for more information.
Select Finalize. A new bid will show under the

Bids

tab on the project page.
---
Resend Bid Email
Select Resend Bid Email to resend the bid to the customer via email.
The bid must be finalized for the "resend email" option to appear.
The customer must have an email entered and cannot be unsubscribed.
---
Cancel Bid
Select Cancel Bid to cancel a bid. The bid cannot be edited or resent once canceled; it can only be copied.
---
Documents
View Bid or Scope of Work links will appear once the bid has been finalized. They will route to the corresponding document.
---
Final Report
The Final Report will appear under Documents once a bid has been accepted. The Send Final Report button will then appear in the Bid tab. Once Send Final Report is clicked, a window will appear to select warranties to include in the Final Report.
---
Edit the Description
Select the Edit link to edit the description of a bid.
---
Scope of Work Change
A Scope of Work Change button will appear after a bid is accepted. If a Scope of Work Change is entered, a separate invoice will appear under the project's Billing tab to be viewed or sent to the customer.
---
Accept Bid
A user may have the customer accept the bid using the Accept Bid link. This will route to the same page the customer would receive via the Customer Bid email, where the bid can be viewed and then accepted or rejected.