Forms configure and present the services that you provide to your customers. Forms can be as simple or complicated as you would like. Think of them as a prebuilt template you fill out for each type of service you provide. This part of the software is completely customized to you and your business. If you install fences, you might have a Chain Link Fence form. If you repair foundations, you might have a Pier form. If you are a painter, you might have an Exterior Paint form.
---
Table of Contents
---
Understanding Forms
Below is a marked-up version of a form shown during both bid creation and within the final bid PDF. Use this as a reference guide while creating an example bid yourself. As you fill in the fields, items will be pulled into the bid. Use the preview and refresh buttons to see how the information you put into the bid creator gets placed within the final PDF document. For more information on creating a bid, visit the Create a Bid article.
A Form During Bid Creation:
Below is an example of what a form looks like during the bid creation process. Think of this as a piece of paper you fill out. This same information is also pulled into the final bid document.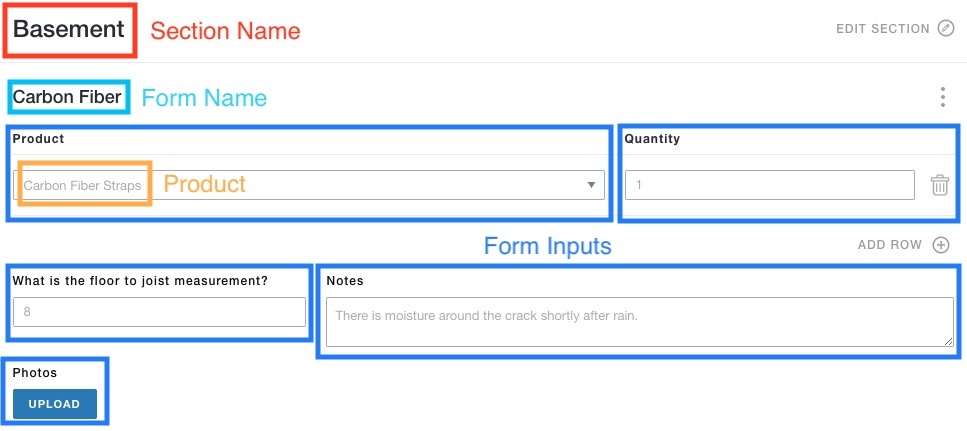 How the Form Appears Within the Finalized Bid Sent to a Customer:
Below is an example of the final bid document that will be sent to your customer. This info came from the form inputs completed during the bid creation process. (Shown above)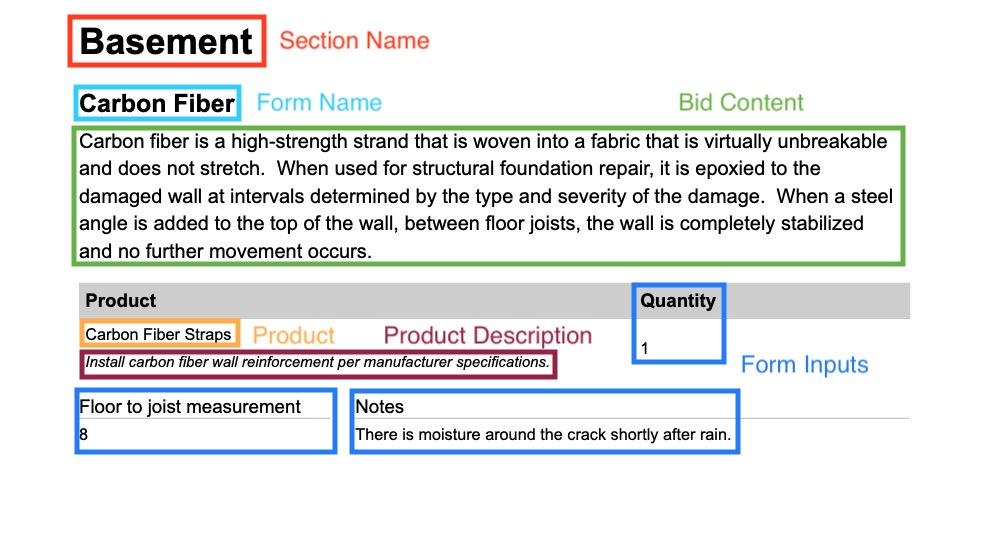 ---
Sample Forms and Products
When your company's account was created, we asked about your industry. Based on your selection, we added some forms and products for you. These are strictly examples to be used to get a feel for the software. They can be edited or removed at any time by following the instructions below.
---
Manage Forms Via Company Profile
Add New Forms
Please visit the Forms Marketplace article to learn more about how to add a new form. Here we will discuss how to manage Forms and Form Categories.
Manage Forms
Primary Users can find the Company Profile by clicking on the user icon in the upper right corner of the screen and selecting

Company Profile

. (To find the user icon on a tablet or mobile device, select the 3-line hamburger menu on the top right of your screen.)

Select

Forms

on the left side of the screen.
Select the Action Menu icon to the right of the form.
Select the three dots to open the Action Menu to edit, duplicate, or delete the form.

For more information on how to make changes to a form once it is open, please visit the Forms Marketplace article.
---
Marketplace vs Custom Forms
Static Marketplace Forms
The Marketplace holds easy-to-use forms that come standard with your subscription. You can edit the name of these forms and add your own products. Find editable industry-specific forms under categories such as Flatwork, Painting, Structural Repair, or Fencing. If you don't see what you are looking for, check out the General section to locate the Other form. This is the basic form template that contains inputs for Products, Quantity, Notes, and Photos. The title of the form can be updated as needed.
Custom Forms
Forms can be completely customized to fit your company. Static forms from the Forms Marketplace can be renamed and personalized. If none of the Marketplace Forms fit your needs, our development team will further edit an existing form or create a custom form for your company. There are additional fees for this service, so please contact support to get a quote.
The below list is the different types of inputs that can be added within a form and are shown in the image below for reference:
Internal text boxes (example: Field notes with only internal visibility)
External text boxes (example: Location specific information shown to your customer)
Radio buttons (example: yes, no, or maybe - only one can be selected)
Checkboxes (example: option 1, 2, 3, and other - multiple can be selected)
Drop-down lists (example: products, locations, styles, types)
Custom calculations (example: Enter length, width, and height to get volume)
Standard Notes and Photos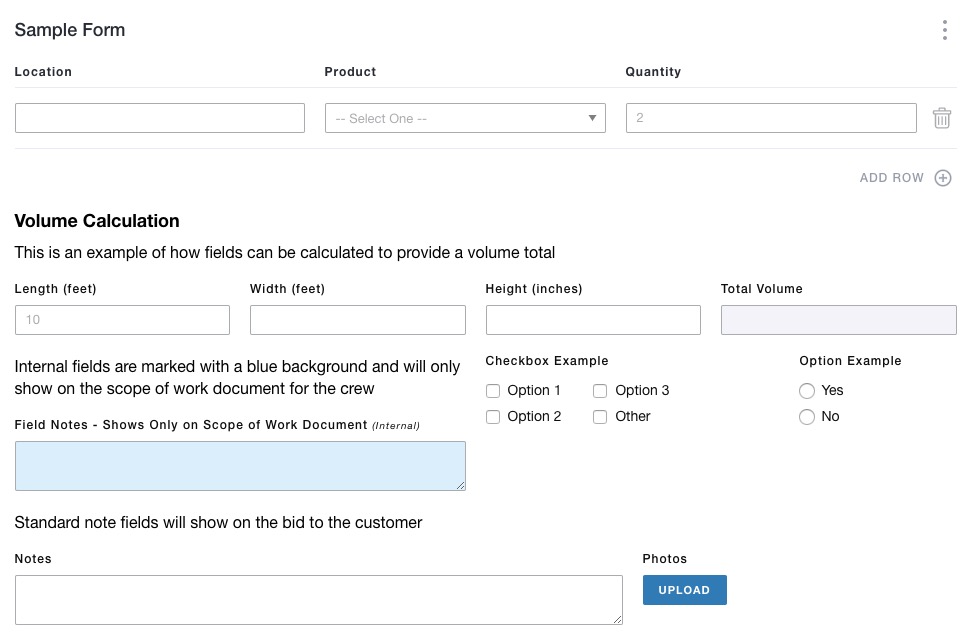 ---
Form Categories
Form categories (different from product categories) allow you to organize and store related forms together, making them easier to find during bid creation.
---
Understanding Form Categories
Form categories are not required, but we recommend them in the following situations:
If your company has a lot of forms that require you to scroll to find the ones you need.

From Category examples: Piers, Polyfoam, and Waterproofing
From Category examples: Fences, Decks, and Staining

If your company supports multiple lines of business.

From Category examples: Electrical, Plumbing, and HVAC

If your company has regional pricing differences.

From Category examples: Topeka, Kansas City, and St Louis
Form Categories in the Company Profile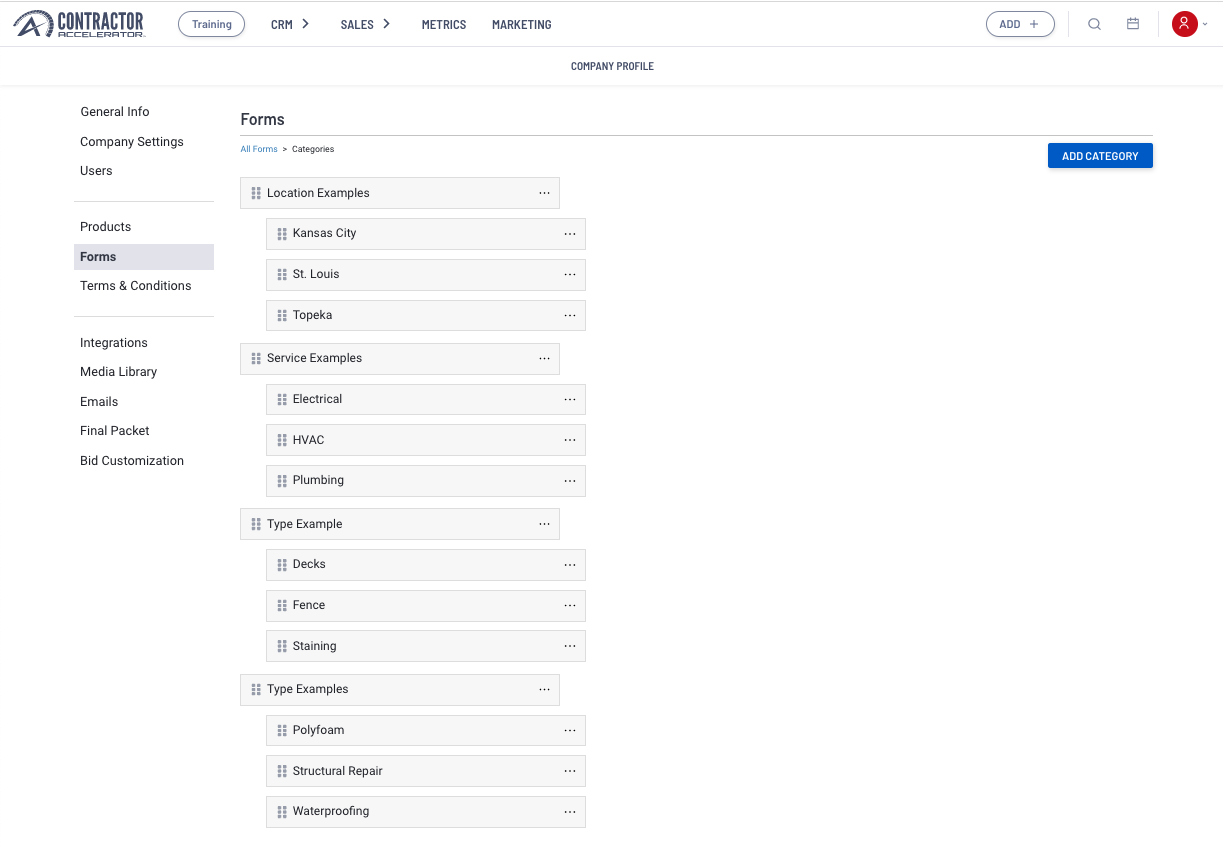 Form Categories During Bid Creation

The Forms linked to the Structural Repair Category are shown in the below image: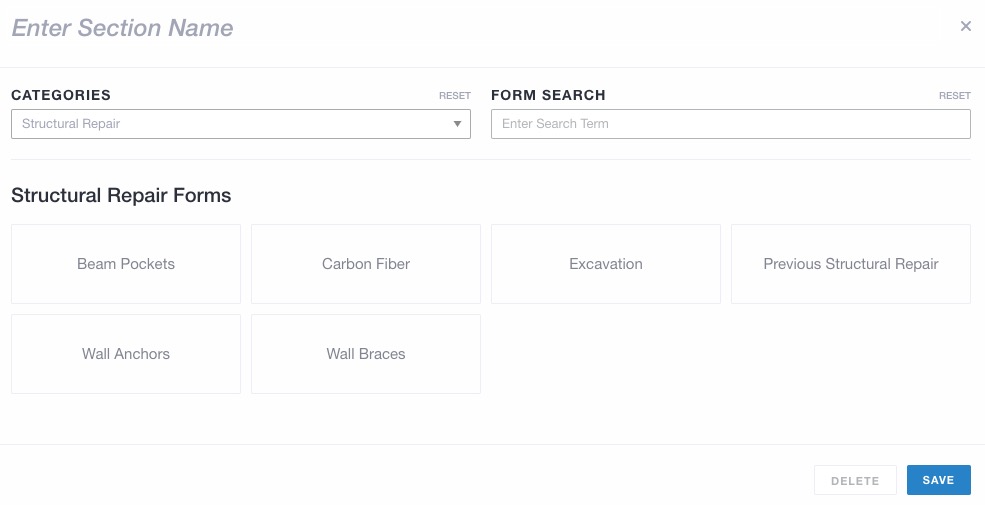 ---
Managing Form Categories
Add a Category
Add a category to organize forms when creating bids.
Select

Forms

from the Company Profile.
Select Organize Forms.
Select the New Category button.
Enter a name.
Click Save.
Add a Subcategory
Subcategories add another layer of organization to categories and forms when selecting them for a section.
Select the three-dot button for the Form Category.
Select Add Subcategory. The Parent Category will pre-fill.
Enter a name.
Click Save.
Edit a Category
Edit a previously created category.
Select a Form Category's three-dot button.
Select Edit.
Change the Parent Category using the drop-down list or edit the name.
Click Save.
Delete a Category
Select the three-dot button, then Delete to delete a category.
Rearrange a Category
Customize the order of categories when creating a section.
Click and drag categories to arrange how they appear within the category drop-down list.
Click and drag to nest a category, as a subcategory, under another category.