Manage Default Emails for Your Customers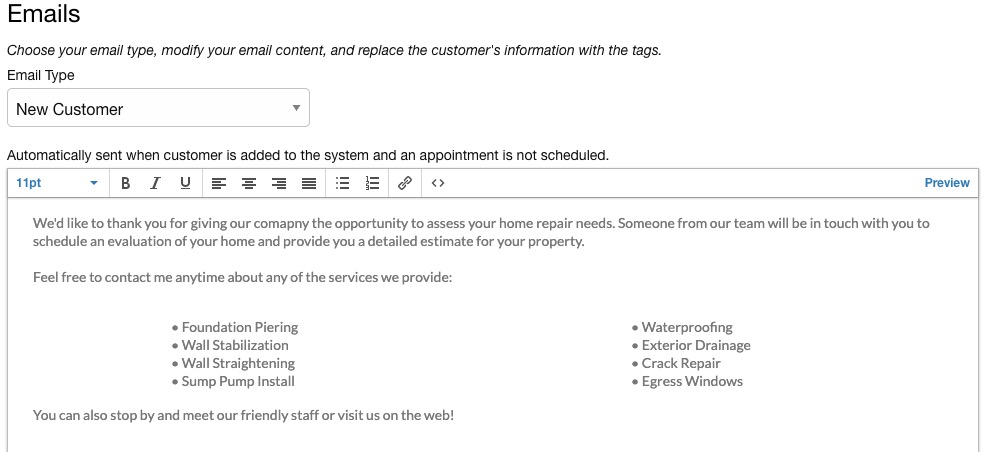 The Emails tab includes all email types that can be sent to customers at different stages of their project.
---
Edit Email
Edit the emails that are sent to the customer during their project's lifespan.
Route to the Company Profile.
Select the

Emails

tab.
Select the Email Type in the drop down list.
Revise the default email content and apply additional customizations using the settings below.


FX tags: Placeholders for interchangeable company or customer information used in certain email templates.
Send from Project Salesperson (only available on certain emails): Emails will show as sent from the salesperson's email address instead of the company's email address. This setting can be toggled on or off.
Preview each email with the preview link in the upper right of the template.

Click Save.
---
Types of Emails
Below are the descriptions for each type of email. Emails are automatically sent at certain phases of the project.
New Customer: Sent when a customer is added to the system and an appointment was not scheduled.
Sales Appointment: Sent when a sales appointment is scheduled for the project.
Sales Appointment Reminder: Sent to customer 24 hours before a sales appointment.
Customer Bid: Sent with the bid to the customer.
Bid Accept: Sent when a customer accepts the bid.
Bid Reject: Sent when a customer rejects the bid.
Installation: Sent when an installation appointment is scheduled for the project.
Installation Appointment Reminder: Sent to a customer 24 hours before the installation appointment if the setting is enabled.
Final Packet: Sent with the final packet to the customer.
Invoice: Sent with the invoice to a customer.