---
Table of Contents
---
Bid Content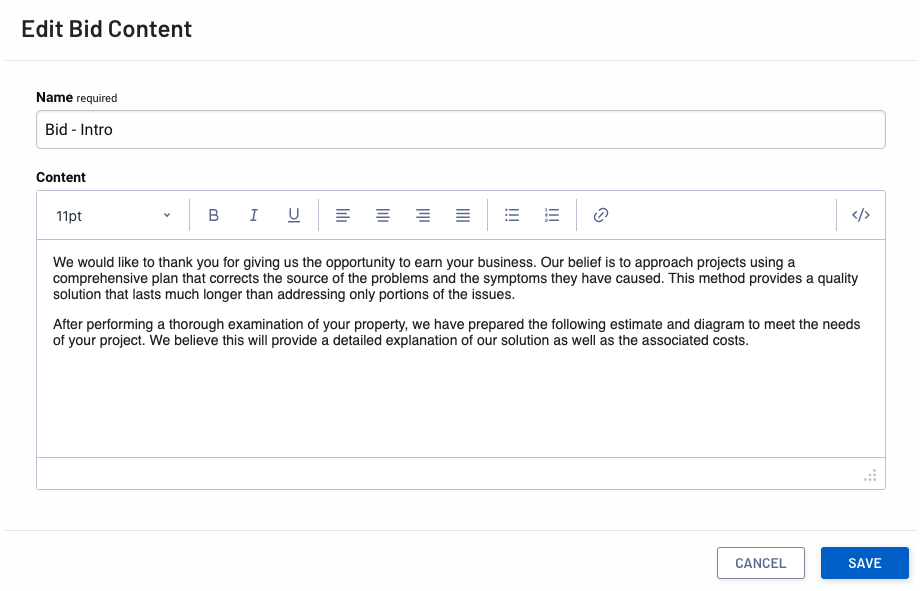 Bid Content holds information that is inserted into your bid. By default, you'll find a "Bid-Intro" section that houses a template already created for you. This is the intro paragraph that gets pulled into every bid automatically under the Scope of Work header. This will typically thank your customers for the opportunity of business and tell them how to navigate through the bid. Edit the template that is already given as needed.
---
Manage Bid Content
Edit the bid content that is inserted into a bid with the form.
Select the

Bid Content

tab from the Company Profile.
Select Edit from the Three-dotted Menu.
Modify your bid content using the text editor.
Click Save.
---
Bid Templates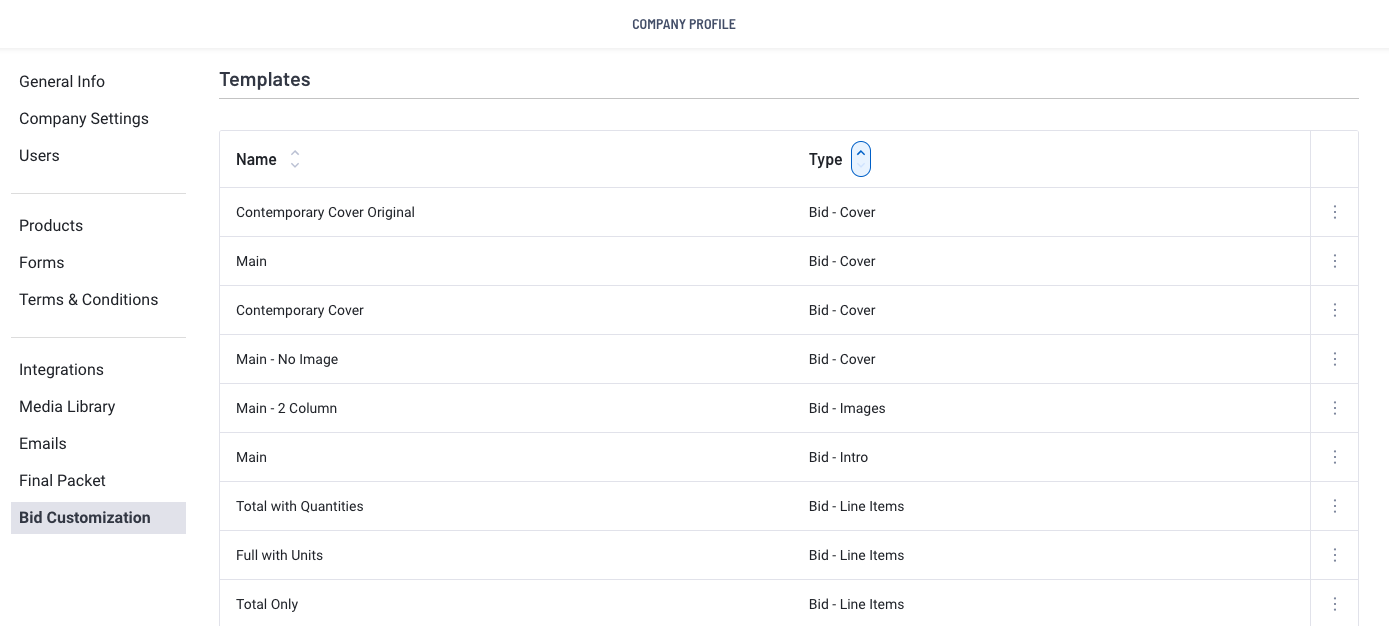 The Content Templates section displays all the bid and scope of work templates available for your company. These templates include changes to two places in the bid - the cover page photo and how costs are shown to your customer on the costing page of the bid. Let's answer some questions to determine what changes need to be made.
Cover Page Photo- Do you want to see a photo of the property on the bid cover page? If yes, then no action needs to be taken, as it's already defaulted to pull-in. If the answer is no, find the Type "Bid - Cover" with the Name "Main - No Image" and toggle the setting on before saving.
Costing Page- What pricing information do you want to show to the customer? Based on your answer, you can pick either "Full," "Total with Quantities," or "Total Only." The following options include the following details on the costing page:
Full - Product name, quantity, and price for each line item
Total with Quantities - Product name and quantity only for each line item
Total Only - Removes the line items altogether and only shows the total price
"Total with Quantities" is already defaulted. Follow the steps below to set a default for the option you choose under the Type called "Bid-Line Items."
Other templates are added by the Contractor Accelerator team when your company would like the sections within their bid to be customized. Please contact support if you would like to know more.
---
Manage Bid Templates
Choose the template that will be selected by default when creating a bid or rename them.
Edit Content Template
Only the template name and default setting can be changed.
Select the

Content Template

tab from the Company Profile.
Select the template'sThree Dotted Menu button.
Select Edit.
Edit template name if needed and toggle on to default.
Click Save.