View and Edit Company Info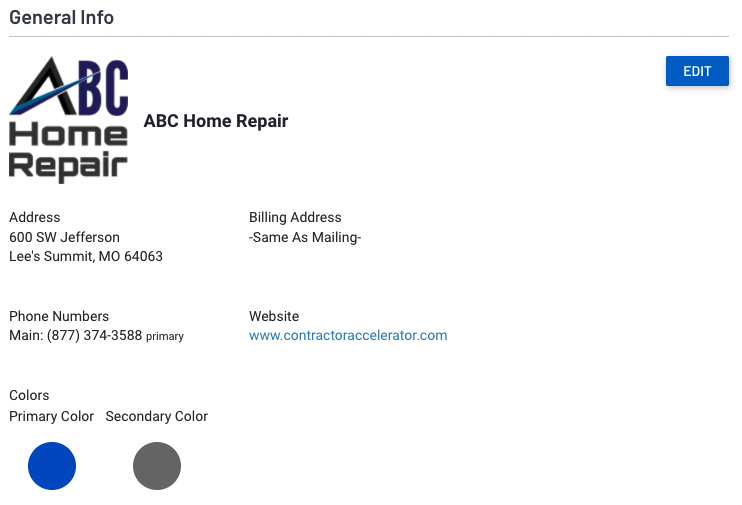 Make changes to your Company's general information by following these steps:
Select the User Menu from the upper right of any page.
Select Company Profile.
Select the

General

tab from the Company Profile.
Click the Edit button in the top right corner.
Update Information. (See below for details on each setting.)
Click Save.
---
Contact Information
Edit company name, mailing address, billing address, phone numbers and website.
Billing Address
Add a billing address to appear on invoices in place of your company's physical address.
Manage Phone Numbers
Your phone numbers will be displayed on email communication sent to your customers.
Click the Plus button to add a number.
Complete the name and number fields.
Click the X button to delete a number.
Check the primary box to designate a primary phone number. Only one number can be the primary.
---
Company Logo and Colors
Your Company Logo and Colors will be used to brand email communication sent to your customers. Also, your logo will be used on the bid cover page.
Logo
Add your Company's logo.
Select Upload New Logo to select a logo from your computer.

The image must be JPG, PNG, or GIF format.
Minimum size of 100 x 100 pixels and a maximum size of 1,000 x 1,000 pixels.

Click Save.
Company Colors
The selected colors are used to brand the customer-facing pages within Contractor Accelerator.
Change the primary/secondary colors by clicking the dropdown next to each color to choose from the color picker, or type in a specific hexadecimal color code.
Click Save.